Entzcrafted Blogs Inc.
10 Cheap, Easy Simple Wine Rack Designs
Heads Up!
These all have different skill levels-know your limit, and work within it.
 
---
Shanty2Chic's Design
DIY Huntress's Design
Someido.Info's Design
Remove and Replace's Design
Hative's Design
Share Play Learn's Design
Maride Pedro's Design
King George Homes's Design
Disagreeable02dif's Design
DIY Pete's Design
Now, let's go into a bit more detail
---
10. Shanty2Chic's Wine Rack Design
Simple and minimalist, this wine rack is compact and easy to make. It takes up very little space, and it looks good too!
---
9. DIY Huntress's Wine Rack Design
Rustic, and really easy to make. I haven't really looked at the plans, but it looks like you could just make the box shape and drill straight through. This would go perfectly on the back of a desk, or even on the back corner of your dining room table.
---
8. Someido.Info's Wine Rack Design
This one has a bit of a story-Back when I used to live with my mom, we would go to the cottage together, just me and her. She had a wine rack exactly like this, and she would take a bottle of wine and a glass for her and I would fit a 1L soda bottle in it and we would both enjoy our drinks. This one's for you, mom.
---
7. Remove and Replace's Wine Rack Design
---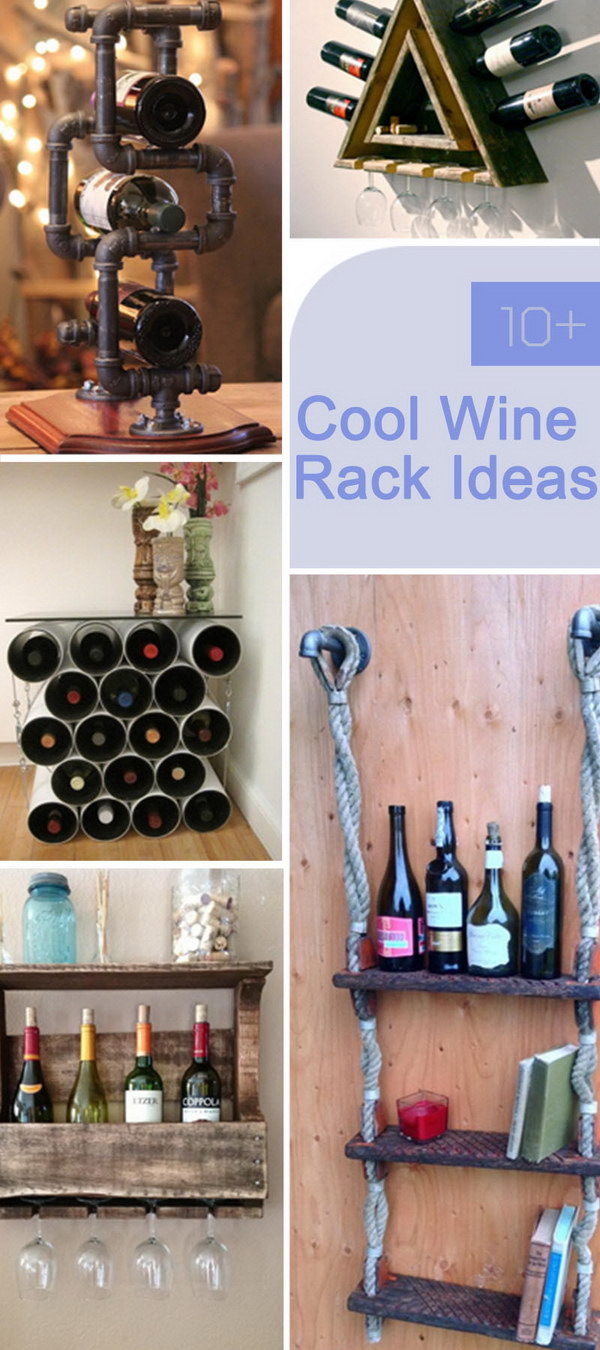 6. Hative's Wine Rack Design
These are all so nice that I couldn't even decide on one. You can pick your favourite, and my boy Hative will show you exactly how to make it! Click the link below to find out how!
---

 5. Share Play Learn's Wine Rack Design
Well, we all love pallet wood. This project takes limited tools, although you will have to deconstruct a pallet (also known as a skid). For that you would need a crowbar and a hammer, but having a reciprocating saw (sawzall) and a nail set would totally make your life easier.
Build it!
---
4. Maride Pedro's WIne Rack Design
This one isn't so much woodworking as it is being crafty. It would go on the a back of your desk, chill on the floor, or even hang on the wall. This one, personally, is my favourite.
---
3. King George Homes's Wine Rack Design
This is probably the biggest out of all of the wine racks in this post, but it is definetely worth it. It will hold your wine glasses, your wine bottles, and it is also made out of reclaimed pallet wood, meaning it is 100% free!
---
2. Disagreeable02dif's Wine Rack Design
This one is probably the fanciest we're looking at today. You would need a router and a jigsaw to make the C at the top. That can also be changed to other letters if you wanted to put your first or last initial, or pretty much any shape or letter that means anything to you. It is designed to hang on the wall.
---
1. DIY Pete's Wine Rack Design
Well, this one really has it all. It looks like it would be pretty easy to make, but you would need a jigsaw to make the curves on the top. It is made out of reclaimed pallet wood, which again, means that its free. This one even holds your bottle opener/corkscrew!
---
Thanks for reading!
I hope you find a great wine rack design for your kitchen. We all know that sometimes, we just need a big glass of wine and some dark chocolate. Enjoy. Cheers!